Challenge
Achieving decarbonisation of the Canadian economy will require a profound transformation of Canada's complex energy systems. While all parts of energy production, transportation and use are inter-connected and driven by socio-economic factors, with deep ramifications into Canada's economy, it is already clear that extended electrification of the economy will be at the core of this transformation.
Canada lacks an independent institution/research coalition that can consistently advise stakeholders on addressing its unique challenges as it strives to achieve deep decarbonisation and extended electrification of its economy. Even though there is considerable expertise across Canada to examine isolated problems within this space, no regular mechanism exists, contrary to what is found in most OECD countries, that can bring that expertise together to address these issues in a holistic manner useful for policy makers and stakeholders.
There is no doubt that electrification of the economy represents a new territory. Robust evidence to inform policy design and decision-making is therefore needed to guide this transition in a way to ensure Canada's economic growth and international positioning. Establishing modelling/analytical capacity will strengthen our ability to take advantage of opportunities and mitigate risks in this transition for the whole of Canada, as noted in the Generation Energy report.
Near-term opportunity
As a first step, Natural Resources Canada is catalysing a network of researchers working on electrification and energy issues to respond to the challenge of a clean electric future in a more robust, coordinated manner. Natural Resources Canada has partnered with an academic institution to convene a dialogue with Canada's electricity system modelling community from July 2019 to March 2020. The intent of the dialogue is to provide the ideas that can serve as a foundation for the establishment of a sustained network of Canadian electricity system and electrification modellers and a platform to share tools and results.
The Energy Modelling Initiative
To achieve these goals, this project, under the leadership of a small executive team, supported by a diverse advisory council but in constant contact with the community, proposes to build on recent reports and meetings, expand the available knowledge of existing expertise, launch a call for small demonstration modelling projects, gather the community in three regional meetings followed a national forum and set-up a national conversation in the community of modellers and stakeholders to develop a long-term work plan to structure the community as a part of the current structure that will information stakeholders on the best way to reach a Clean Electric Future.
Calendar of activities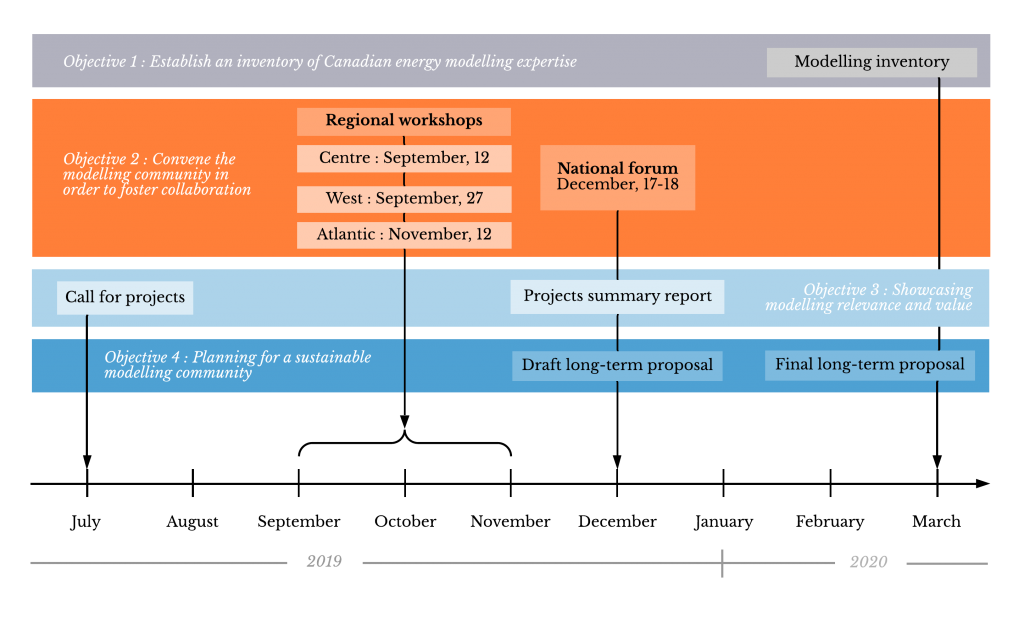 Long-term aspirations
On behalf of Natural Resources Canada, The Energy Modelling Initiative is working to establish a national electricity/energy systems modelling network. This network seeks to reflect the diversity of the capacities and needs for electricity modelling in Canada and facilitate the interaction of stakeholders.
The Canadian Energy Modelling Network will focus primarily on electricity system modelling while recognizing its interconnection with other sectors, particularly the key role it can play for energy efficiency at a systems level. The network will support federal and provincial policy makers in their policy making efforts for a transition towards a Clean Electric Future. Hence, the modelling network will create synergies among modellers, bridge the gap between modellers and users and deliver a common set of tools that is accessible to all stakeholders .
While the initial focus is on electrification, there is a long-term opportunity for this network to engage in broader modelling efforts concerning Canada's energy system as a whole. The network builds on an informs the work of the recently inaugurated Statistic Canada's Canadian Centre for Energy Information (CCEI) which is integrating all energy data from across the country to act as a one-stop access point for energy data. The network would also complements the work of Environment and Climate Change Canada's Expert Engagement Initiative on Clean Growth and Climate Change.
International significance
The Energy Modeling Initiative is part of a global movement that extends beyond Canada's borders. Other countries have already launched projects concerning the adoption or enhancement of long-term energy scenarios based on their national energy modeling expertise. Intergovernmental organizations are promoting such efforts and providing a platform for international exchange; most significantly the Long-Term Energy Scenario Campaign of the Clean Energy Ministerial and the IRENA's Energy Transition Scenarios Network have launched and held their first meeting in 2018. This initiative attempts to join forces with the campaign and add the Canadian Energy Modelling Network to the international community.
Canada has been represented in last year's webinar series on Long-term Energy Scenarios (see the video below). These webinars feature a variety of energy models used by Natural Resource Canada, Environment and Climate Change Canada and Canada's Energy Regulator to demonstrate the application of modelling for energy and climate policy decision making in Canada.
Next year's event can provide a great opportunity for presenting the inventory of all capacities in Canada. This would allow participants to gain exposure to a global community of modelling experts and stakeholders, including government representatives.